UCLA Dining Services and Rooms Division have helped pave the way in reducing residential waste footprints on the Hill. Learn how Housing & Hospitality Services is incorporating sustainability into dining and waste management.
As part of the UCOP Sustainable Practices Policy, UCLA Dining Services is committed to reaching or exceeding a minimum of 20% of sustainable food purchases by 2020. Dining sourced approximately 19% of total food purchases from sustainable sources in 2015-16 and is on track to hit 20% sustainable food in 2020. This sustainable food includes local milk, local fruits, USDA organic fruits and vegetables, and exclusively cage-free, humanely raised eggs.
In 2017-18, UCLA Dining Services hit 16.3% sustainable food purchases. The majority of this spend comes from local produce and dairy, sustainable seafood, cage-free eggs, and fair trade coffee and tea.
Bruin Plate's local and sustainable procurement efforts
Some farms and vendors from which we source local and/or sustainable products include:
---
Did you Know?
• Vegetarian and vegan meals are available everyday at each residential restaurant and boutique. Look for the green earth symbols on the dining menu for low-carbon footprint, vegan, and vegetarian options.
• Almost all to-go packaging on the Hill is either compostable or recyclable. Learn how to sort your waste here!
• More than 50 tons of compostable materials are diverted from the landfill each month through a commercial composting program.
• Eating well and eating green often go hand-in-hand, learn more here!
• Learn more about Bruin Plate, UCLA's Premier Residential Dining Restaurant!
---
Initiatives
The Impossible™ Foodprint Project pilot launched in Fall 2019 at Rendezvous West. In addition to introducing Impossible™ plant-based meat, the project aims to provide transparency about the carbon footprint (i.e., foodprint) of different menu items.
UCLA Dining hosts food waste audits at the dining halls a few times per quarter where guests separate their plate leftovers between edible and inedible food. There is an average of 2.5 oz of edible food per person left on plates. Full results of the food waste audits can be found here.
The Green Mondays campaign, also called Meatless Mondays, is designed to inform students about the impact of all meat production on the environment, from water to carbon dioxide emissions. Every Monday, one station at each dining hall serves non-meat options during lunch and dinner to promote sustainable eating.
In order to reduce the negative environmental impacts of beef production, Dining does not serve beef on Thursdays in the main dining halls. Learn more about our beef with beef.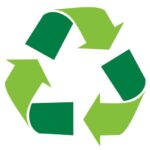 On-campus housing boasts a large-scale recycling and pre- and post-consumer composting program across the Hill. Find out how we reduce our waste footprint and how to sort your waste.
UCLA is a Styrofoam-free campus, and all four take-out boutique restaurants on the Hill serve all food in compostable packaging. Some smaller things like chip bags and condiment packages are not compostable, however.
Tray-free dining is encouraged at every meal in all of our dining halls in order to reduce water usage. Now, it is a part of the Bruin lifestyle! Learn about the benefits of tray-free dining.
Reusable Bottle Program
Beginning fall 2018, students can use their own reusable bottles to get drinks at Rendezvous, Bruin Cafe, and Cafe 1919. You save 0.24 lbs. of CO2 every time you use a reusable cup instead of a disposable one!
Rendezvous, The Study, Bruin Café, Café 1919 and Bruin Plate are all Certified Green Restaurants® by the Green Restaurant Association. Rendezvous was the first restaurant at any university campus in California to meet this achievement!
UCLA Dining Services has committed to only buying cage-free and Certified Humane Raised and Handled eggs for all residential restaurants.
Every year UCLA Dining Services works with charitable organizations to donate leftover food from large events and school closures.
Fair Trade Certified Coffee
In acknowledgment of the social inequalities and environmental detriment involved in conventional coffee production and sales, UCLA Dining serves Fair Trade Certified coffee from the Grapos Cooperative in Chiapas, Mexico, and the ARINAGATA Cooperative in Indonesia.
Recycling Cooking Oil
Dining Services generates on average 400 gallons of used cooking oil each month. The used oil is picked up and recycled into biodiesel by a third party company.
---
Past Programs
Eco-to-Go Reusable Take-out Container Pilot Program
In Spring 2013, a handful of students joined the Eco-to-Go Pilot Team to test out reusable take-out containers at Rendezvous. Further movement from this program is currently under review.
With the help of student volunteers, Dining chefs managed and maintained an organic herb garden behind Delta Terrace back in 2013.
---
Planning Documents