With over 20 different buildings dedicated to residential living, Housing operations that reduce waste, energy, and water consumption are essential to minimize the impacts of nearly 13,000 students living on the Hill.
Green Guide to Sustainable Living at UCLA
---
Initiatives
LEED Buildings and Building Density
Increasing building density and the number of LEED certified buildings helps reduce our environmental impacts.
Solar Water Heating
Nearly all residential high-rise buildings have solar-assisted domestic hot water heating panels to reduce the amount of natural gas needed to heat hot water. Combined, the high-rise systems are able to heat and store more than 15,000 gallons of solar-heated water.
Since the boilers don't have to heat the water nearly as much, the buildings with these systems use much less natural gas than they would without the solar assisted heating. These gas savings prevents almost 300 metric tons of CO2 from being emitted into the environment each year and saves UCLA over $20,000 annually.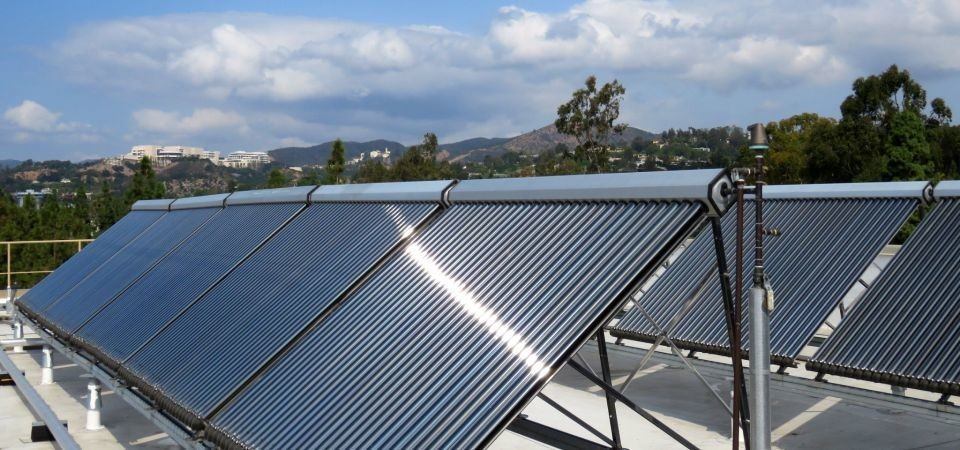 Lighting and HVAC Retrofits
Lighting throughout the Hill and Guest House is undergoing a retrofit to LED bulbs. Based on current installations, more than 6,000 light bulbs have been replaced, saving an estimated 1.4 million kWh of electricity annually—enough to power nearly 150 homes for a year. In addition old heating, ventilation, and air conditioning (HVAC) units are being replaced to improve efficiency.
Weather Controlled Irrigation and Drip Irrigation Systems
On-Campus Housing Maintenance has installed a centralized irrigation control system that adjusts watering schedules based on weather data and landscape type to prevent over-watering. Currently 24 smart controllers are installed with the ability to add more.
More than 30% of the irrigation system on the Hill has been replaced with high-efficiency drip irrigation systems. Drip irrigation works by emitting water to a targeted area, allowing water to sink below the surface to plant root systems. This is in contrast to typical sprinklers, which result in water loss through evaporation. The drip systems are complemented by a 4″–6″ layer of mulch to retain soil moisture and prevent seedlings from sprouting.
Clothes Out End-of-Year Donation Program
Each year, the Office of Residential Life sponsors a clothing and goods drive during finals week in June to help students lighten their loads when moving out. Southern California-based charities benefit from the donations while Housing & Hospitality diverts waste from the landfill.
Living Learning Community
For the 2020-2021 school year, this community will be virtual! Join fellow bruin pioneers to explore the many facets of sustainability as you meet faculty, make friends, and gain academic support.